Hello!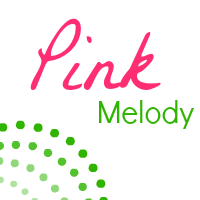 Today, we are going to be interviewing Melody from
Pink Melody
!
1. What is your name (or Blogger name) and age (if you don't want to say your age, that is just fine :)? Tell us a little bit about yourself.
My name is Melody Melone, but please call me Melody. ;) I'm 13 years old. I've always wanted a pet, but I can't have one because people in my family are allergic, so I fill that wish with stuffed animals! I have tons of Build a Bears, (plus a '55 teddy bear) and just random fuzzy friends. ;)
2. What are your blogs about, and why did you start blogging?
I started blogging because my best friend Piper blogs and I thought it looked like so much fun! I'm not really sure what my posts on Pink Melody are about.. Just my everyday life with a few twists of randomness.
;)
3. What are your hobbies?
I love to swim! It's my favorite sport, and I've been on the team for about three years. Other then that, writing. Me and Piper write stories together, and it's a lot of fun to just let your imagination run wild!
4. If you are a doll lover, how many dolls do you have, and which ones? If you are not a doll lover, how often do you go to the library?
I have two American Girl dolls. Elizabeth Cole, and a doll I designed to look like me. Her name is Olivia. My older sister has Josefina, but she lets me have her in my room along with my other two. :) The happy trio has loads of fun together!
5. What is your favorite book (or book series)?
A Charmed Life. It's SO good! Piper lent it to me!
6. What is your favorite movie?
I love so many movies! But if I had to pick just one, I'd have to say Princess Bride. It's a classic!
7. Do you prefer to watch the movie before reading the book, or do you prefer to read the book before watching the movie?
I
'm not really sure. :P I have seen the Lord of the Rings movies, but I never read the books, because the small print is a little daunting. ;)
8. What is your favorite kind of ice cream?
9. What is your most favorite place that you've ever been to?
We went to a National Park this last year called Death Valley. I know it sounds weird, but it was a really cool place and it was so much fun sightseeing.
10. What do you like best about my blog?
Well for one thing I love your design!! It's so cute!
11. What would you do to improve my blog?
Nothing. :) I love it!
12. What are your top 5 favorite blogs?
Ooh that's a toughie! I love all those wonderful blogs out there!
13. Would you be interested in guest posting on my blog?
Yes!! I'd be thrilled!
Thank you so much, Melody! I loved reading your interview!
If you would like to be interviewed, please visit my interviews page
here
.
Have a great day!
~Grace